The Ramona 4-Book Collection, Volume 2: Ramona and Her Mother; Ramona Quimby, Age 8; Ramona Forever; Ramona's World (Paperback)
You have found our old website- this site no longer works! Please go to www.InkwoodNJ.com to shop - Thanks!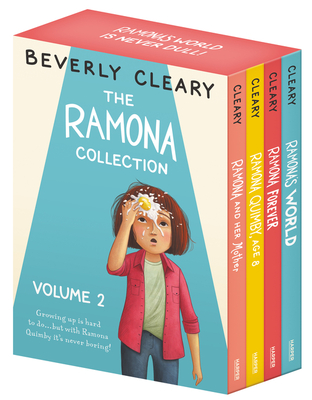 $31.96

Usually Ships in 1-5 Days
Description
---
Growing up is hard to do…but with Ramona Quimby it's never boring! This special collection contains the second four books in Beverly Cleary's stories about the wonderful, blunderful Ramona Quimby.
Life is full of ups and downs in this second collection of stories about Ramona Quimby. Ramona contends with pesty Willa Jean, deals with the horror of throwing up at school, welcomes a new addition to the Quimby family, and even makes her first best friend. Growing up isn't easy, but with Ramona it is always an adventure!
For generations, Ramona's adventures have continued to amuse, delight, and comfort young readers worldwide. These editions are charmingly illustrated and sure to be enjoyed by readers ages 6-12.
The beloved final four books in the Ramona series are included in this box set:
Ramona and Her Mother
Ramona Quimby, Age 8
Ramona Forever
Ramona's World
About the Author
---
Beverly Cleary is one of America's most beloved authors. As a child, she struggled with reading and writing. But by third grade, after spending much time in her public library in Portland, Oregon, she found her skills had greatly improved. Before long, her school librarian was saying that she should write children's books when she grew up.
Instead she became a librarian. When a young boy asked her, "Where are the books about kids like us?" she remembered her teacher's encouragement and was inspired to write the books she'd longed to read but couldn't find when she was younger. She based her funny stories on her own neighborhood experiences and the sort of children she knew. And so, the Klickitat Street gang was born!
Mrs. Cleary's books have earned her many prestigious awards, including the American Library Association's Laura Ingalls Wilder Award, presented to her in recognition of her lasting contribution to children's literature. Dear Mr. Henshaw won the Newbery Medal, and Ramona Quimby, Age 8 and Ramona and Her Father have been named Newbery Honor Books. Her characters, including Beezus and Ramona Quimby, Henry Huggins, and Ralph, the motorcycle-riding mouse, have delighted children for generations.
Jaqueline Rogers has been a professional children's book illustrator for more than twenty years and has worked on nearly one hundred children's books.