Blackbird Fly (Hardcover)
You have found our old website- this site no longer works! Please go to www.InkwoodNJ.com to shop - Thanks!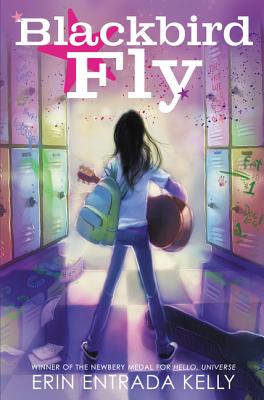 $16.99
Email or call for price.
Description
---
Future rock star or friendless misfit? That's no choice at all. In this acclaimed novel by Newbery Medalist Erin Entrada Kelly, twelve-year-old Apple grapples with being different; with friends and backstabbers; and with following her dreams.
Publishers Weekly called Blackbird Fly "a true triumph," and the Los Angeles Times Book Review said, "Apple soars like the eponymous blackbird of her favorite Beatles song."
Apple has always felt a little different from her classmates. She and her mother moved to Louisiana from the Philippines when she was little, and her mother still cooks Filipino foods and chastises Apple for becoming "too American." When Apple's friends turn on her and everything about her life starts to seem weird and embarrassing, Apple turns to music. If she can just save enough to buy a guitar and learn to play, maybe she can change herself. It might be the music that saves her . . . or it might be her two new friends, who show her how special she really is.
Erin Entrada Kelly deftly brings Apple's conflicted emotions to the page in her debut novel about family, friendship, popularity, and going your own way. "A must-read for those kids cringing at their own identities."—Bulletin of the Center for Children's Books.
About the Author
---
Erin Entrada Kelly was awarded the Newbery Medal for Hello, Universe and a Newbery Honor for We Dream of Space. She grew up in Lake Charles, Louisiana, and now lives in Delaware. She is a professor of children's literature in the graduate fiction and publishing programs at Rosemont College, where she earned her MFA, and is on the faculty at Hamline University. Her short fiction has been nominated for the Philippines Free Press Literary Award for Short Fiction and the Pushcart Prize. Before becoming a children's author, Erin worked as a journalist and magazine editor and received numerous awards for community service journalism, feature writing, and editing from the Louisiana Press Association and the Associated Press.
Erin Entrada Kelly's debut novel, Blackbird Fly, was a Kirkus Best Book, a School Library Journal Best Book, an ALSC Notable Book, and an Asian/Pacific American Literature Honor Book. She is also the author of The Land of Forgotten Girls, winner of the Asian/Pacific American Award for Literature; You Go First, a Spring 2018 Indie Next Pick; Lalani of the Distant Sea, an Indie Next Pick; Those Kids from Fawn Creek, named to numerous best-of-the-year lists; and three acclaimed novels for younger readers, Maybe Maybe Marisol Rainey, Surely Surely Marisol Rainey, and Only Only Marisol Rainey, which she also illustrated. She lives in Delaware.
Praise For…
---
"Each character in Kelly's debut novel . . . is portrayed with remarkable authenticity. The awkwardness and intense feelings inherent to middle school are palpable. Children's literature has been waiting for Apple Yengko—a strong, Asian-American girl whose ethnic identity simultaneously complicates and enriches her life." — Kirkus Reviews (starred review)
"Will resonate with any student in middle school who has felt different and ostracized. The author has skillfully captured the various characters that populate Apple's . . . school." — School Library Journal (starred review)
"[A] delightful debut . . . What sets Kelly's book apart is the combination of a quirky narrator and details about living in a first-generation Filipino American household. . . . Through her love of music . . . Apple starts to soar like the eponymous blackbird of her favorite Beatles song." — Los Angeles Times Book Review
"A smart, sensitive, and resilient heroine who is authentic and relatable in her strengths and imperfections. This poignant novel would make for a particularly fine readaloud; expect visceral reactions . . . This is a must-read for those kids cringing at their own identities." — Bulletin of the Center for Children's Books
"Writing with acute sensitivity and sometimes painful realism, debut novelist Kelly skillfully captures the betrayals, tentative first crushes, and fluctuating emotions of middle school ... a true triumph." — Publishers Weekly (starred review)
"Kelly skillfully weaves together the story of misfit Apple, her love of music, and a budding romance with a new boy at school, while never losing focus on the central issue of what it is like to be the 'other.'" — Booklist