Oh, Sal (Hardcover)
You have found our old website- this site no longer works! Please go to www.InkwoodNJ.com to shop - Thanks!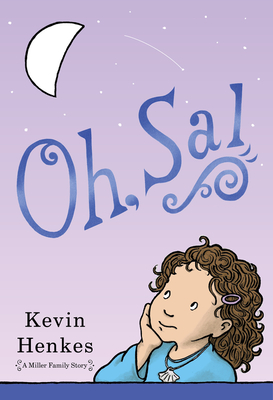 $16.99

Usually Ships in 1-5 Days
Description
---
"Delightfully superb."—Kirkus Reviews (starred review)
"Henkes is a master."—The Horn Book (starred review)
"Captivating. "—Booklist (starred review)
A stand-alone companion to two-time Newbery Honor author Kevin Henkes's award-winning, bestselling, and acclaimed The Year of Billy Miller and Billy Miller Makes a Wish. This short, humorous, and accessible novel for newly independent readers stars Billy's younger sister, Sal, and chronicles an eventful holiday season at the Miller house.
Oh, Sal is illustrated in black-and-white throughout by the author, and is perfect for fans of Ramona, Ivy + Bean, and Dory Fantasmagory.
The Miller family is celebrating its first holiday with the new baby. Billy is excited that Uncle Jake is visiting, but nothing about this holiday season is making Billy's little sister Sal happy. The baby is a noisy nuisance and hogging all of Mama's attention. Plus, the baby doesn't even have a name yet. To make matters worse, Sal lost the very best gift that Santa gave her!
Will Sal find her present? Will the Millers find a name for the baby? Will Billy always be an annoying big brother?
The holiday season (and life with the Millers) is full of surprises—and warmth, kindness, family, celebration, and love—in the hands of award-winning author Kevin Henkes. Illustrated throughout with black-and-white art by the author, Oh, Sal is an excellent choice for early elementary grades, as well as a terrific family and classroom read-aloud for any time of the year.
A stand-alone companion to The Year of Billy Miller (a Newbery Honor Book) and Billy Miller Makes a Wish. 
About the Author
---
Kevin Henkes has been praised both as a writer and as an illustrator and is the recipient of the Children's Literature Legacy Award for his lasting contribution to literature for children. He received the Caldecott Medal for Kitten's First Full Moon; Caldecott Honors for Waiting and Owen; two Newbery Honors—one for Olive's Ocean and one for The Year of Billy Miller—and Geisel Honors for Waiting and Penny and Her Marble. His other books include Sun Flower Lion, A Parade of Elephants, Chrysanthemum, and the beloved Lilly's Purple Plastic Purse. Kevin Henkes lives with his family in a house in Madison, Wisconsin.
Praise For…
---
"Henkes' third book centered on the Miller family—after the Newbery Honor The Year of Billy Miller and Billy Miller Makes a Wish —follows Billy's 4-year-old sister, Sal. . . . Sal's New Year's Day has plenty of big moments of misunderstanding—and understanding. . . . Henkes' keen awareness of the ways it is hard and constantly revelatory to be a child gives this simple family story a sense of heart and happiness. . . . Delightfully superb." — Kirkus Reviews (starred review)
"This third, stand-alone installment of the Miller family saga is told from four-year-old Sal's point of view. It's New Year's Day, and there's simply too much going on for her. . . . But if Sal is at times overwhelmed by life's complications, she is part of a loving family that takes her emotions seriously and includes her in their day-to-day decisions. . . . Henkes is a master at probing the mind and heart of a young child, writing with gentle humor and affection." — Horn Book (starred review)
"In this stand-alone companion book to The Year of Billy Miller and Billy Miller Makes a Wish, the spotlight shifts from eight-year-old Billy to his four-year-old sister, Sal. . . . It's New Year's Day, and she can't find her favorite Christmas present . . . Written in third person from Sal's viewpoint, the story takes place within a 24-hour period, yet the family members' actions, concerns, and conversations offer a broad range of insights into the characters and their relationships. . . . A captivating family story with gentle humor and emotional resonance." — Booklist (starred review)
"Sal has a lot going on—a new sister, a visiting uncle, an annoying brother, and a missing pair of underpants. . . . With his characteristic charm, Henkes takes readers straight into the microcosm of a little girl's world where small things mean everything, and imagination helps process emotions; readers will easily feel at home. The picture-perfect narrative creates a natural world filled with a relatable and engaging cast that feels more like family than book characters. . . . Authentic and warm." — School Library Journal