You're Aboard Spaceship Earth (Let's-Read-and-Find-Out Science 2) (Paperback)
You have found our old website- this site no longer works! Please go to www.InkwoodNJ.com to shop - Thanks!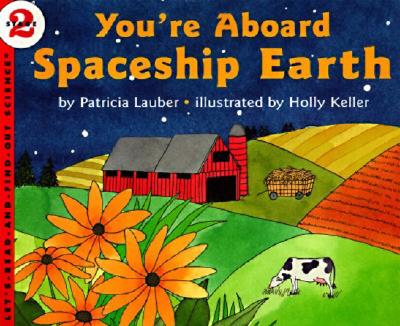 $6.99

Usually Ships in 1-5 Days
Description
---
Read and find out about spaceship earth in this colorfully illustrated nonfiction picture book.
The earth is like a spaceship in orbit—it has everything on board that we need to survive: water, food, and air with oxygen. Unlike a space shuttle, Earth is able to renew its resources. Read and find out why Earth is the greatest spaceship to be aboard!
This is a clear and appealing science book for early elementary age kids, both at home and in the classroom. It's a Level 2 Let's-Read-and-Find-Out, which means the book explores more challenging concepts for children in the primary grades. The 100+ titles in this leading nonfiction series are:
hands-on and visual
acclaimed and trusted
great for classrooms
Top 10 reasons to love LRFOs:
Entertain and educate at the same time
Have appealing, child-centered topics
Developmentally appropriate for emerging readers
Focused; answering questions instead of using survey approach
Employ engaging picture book quality illustrations
Use simple charts and graphics to improve visual literacy skills
Feature hands-on activities to engage young scientists
Meet national science education standards
Written/illustrated by award-winning authors/illustrators & vetted by an expert in the field
Over 130 titles in print, meeting a wide range of kids' scientific interests
Books in this series support the Common Core Learning Standards, Next Generation Science Standards, and the Science, Technology, Engineering, and Math (STEM) standards. Let's-Read-and-Find-Out is the winner of the American Association for the Advancement of Science/Subaru Science Books & Films Prize for Outstanding Science Series.
About the Author
---
Patricia Lauber is the author of more than sixty-five books for young readers. Many of them are in the field of science, and their range reflects the diversity of her own interests-bats, dolphins, dogs, volcanoes, earthquakes, the ice ages, the Everglades, the planets, earthworms. Two of her books, SEEDS: POP STICK GLIDE and JOURNEY TO THE PLANETS, were nonfiction nominees for The American Book Awards. She was the 1983 winner of The Washington Post/Children's Book Guild Award for her overall contribution to children's nonfiction literature.
As well as writing books, Ms. Lauber has been editor of Junior Scholastic, editor-in-chief of Science World, and chief editor, science and mathematics, of The New Book of Knowledge
A graduate of Wellesley College, she is married and lives in Connecticut. When not writing, she enjoys hiking, sailing, traveling, cooking, reading, and listening to music.
Holly Keller has illustrated a number of books in the Lets-Read-and-Find-Out Science series, including Be a Friend to Trees. She is also the author and illustrator of many picture books, including Island Baby and Horace.
Ms. Keller lives in West Redding, Connecticut.