Literary Critters: William Shakesbear's Journey for Inspiration (Hardcover)
You have found our old website- this site no longer works! Please go to www.InkwoodNJ.com to shop - Thanks!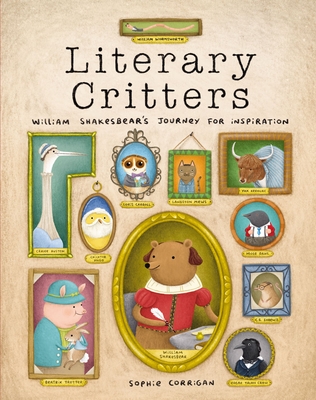 $17.99

Usually Ships in 1-5 Days
Description
---
Literary Critters is a truly unique picture book, introducing young readers to classic literary figures and encouraging them to use their imaginations. As William Shakesbear visits his fellow Literary Critter Guild members, he's greeted with lots of advice from his author friends and has some adventures along the way.
This playful story promotes literacy and storytelling as quirky playwright William Shakesbear sets off to find some inspiration for his new play. Along the way, Will asks his Literary Critter friends about what inspires them to write--including Mole Dahl, Crane Austen, Beatrix Trotter, Edgar Talon Crow, Yak Kerouac, C.S. Shrewis, Langston Mews, and more. He also invites young readers to become part of the Literary Critters Guild and continue growing in their love for all things reading, writing, and books.
Literary Critters includes:
A playful introduction to iconic authors
A personalized page in the book that invites the reader to become a member of the Literary Critters Guild
Whimsical art and characters created by Sophie Corrigan
Content for children ages 4-8, perfect for instilling a love of reading and literature
If your child loves Literary Critters, check out these other titles by Sophie Corrigan:
Pugtato Finds a Thing
Pugtato Babysits the Snouts
And board book--Pugtato Let's Be Best Spuddies