I Am a Big Sister (Hardcover)
You have found our old website- this site no longer works! Please go to www.InkwoodNJ.com to shop - Thanks!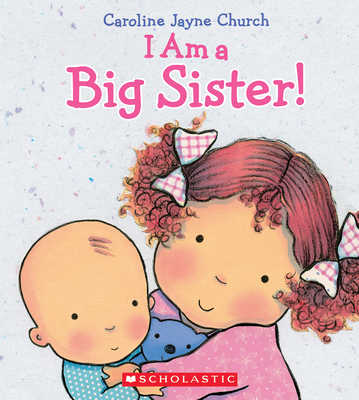 $6.99

Usually Ships in 1-5 Days
Description
---
Share the joys of becoming a big sister!With the arrival of a new baby comes many transitions, and big sisters may need a little extra tender loving care to adjust to a new family situation. This sweet story with adorable toddler illustrations by Caroline Jayne Church is just right to share with and prepare an older sister getting ready for an expanding family.
About the Author
---
Caroline Jayne Church was a bestselling author and illustrator. Some of her bestselling titles include I Love You Through and Through by Bernadette Rossetti-Shustak, How Do I Love You? (Je t'aime comme...) by Marion Dane Bauer, You Are My Sunshine by Jimmie Davis, and Good Night, I Love You (Bonne nuit, je t'aime!).
Praise For…
---
Praise for TEN TINY TOES"The brief, lyrical text, the opportunities for interactivity and the focus on a subject dear to toddlers' hearts--themselves and all their glorious parts--make this a candidate for repeat readings." --KIRKUSPraise for LET'S GET DRESSED!"Church's cartoon toddler and a puppy are delightfully animated..." --KIRKUSPraise for POTTY TIME!"The cheerful images and fun sound effect provide gentle encouragement for the potty training camp." --PUBLISHERS WEEKLYPraise for GOOD NIGHT, I LOVE YOU"A quiet depiction of self-reliant slumber." --KIRKUSPraise for I LOVE YOU THROUGH AND THROUGH"Dynamic illustrations...act out the text in ways that are informative, inventive, and humorous." --SCHOOL LIBRARY JOURNAL

Praise for TEN TINY TOES"The brief, lyrical text, the opportunities for interactivity and the focus on a subject dear to toddlers' hearts--themselves and all their glorious parts--make this a candidate for repeat readings." --KIRKUSPraise for LET'S GET DRESSED!"Church's cartoon toddler and a puppy are delightfully animated..." --KIRKUSPraise for POTTY TIME!"The cheerful images and fun sound effect provide gentle encouragement for the potty training camp." --PUBLISHERS WEEKLYPraise for GOOD NIGHT, I LOVE YOU"A quiet depiction of self-reliant slumber." --KIRKUSPraise for I LOVE YOU THROUGH AND THROUGH"Dynamic illustrations...act out the text in ways that are informative, inventive, and humorous." --SCHOOL LIBRARY JOURNAL