Can I Be Your Dog? (Paperback)
You have found our old website- this site no longer works! Please go to www.InkwoodNJ.com to shop - Thanks!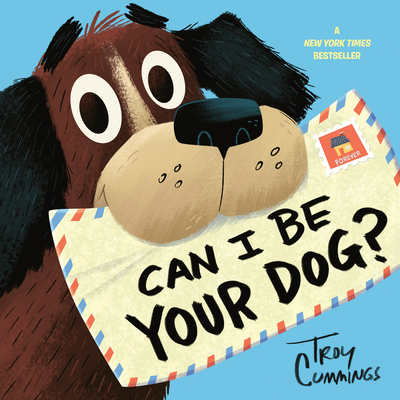 $8.99

Usually Ships in 1-5 Days
Description
---
A heart-tugging dog adoption story told through letters from a dog as he seeks a forever home! The New York Times bestselling picture book that was featured on THE TODAY SHOW is now in paperback!

Arfy is a homeless mutt who lives in a box in an alley. Arfy writes to every person on Butternut Street about what a great pet he'd make. His letters to prospective owners share that he's house broken! He has his own squeaky bone! He can learn to live with cats! But, no one wants him. Won't anyone open their heart--and home--to a lonesome dog? Readers will be happily surprised to learn just who steps up to adopt Arfy.

Troy Cummings's hilarious and touching story is a perfect gift for a child wanting a dog, and for pet adoption advocates. It also showcases many different styles of letter writing, making it appealing to parents and teachers looking to teach the lost art of written communication.

"It's an instant classic in our household." --#1 New York Times bestselling author Sarah J. Maas
About the Author
---
TROY CUMMINGS is the creator of the New York Times bestseller Can I Be Your Dog? and its companion picture book I Found A Kitty! He has written and illustrated a bunch of other books, including The Eensy Weensy Spider Freaks Out! (Big-Time!), Little Red Gliding Hood (written by Tara Lazar), Those Are Not My Underpants! (written by Melissa Martin), and the chapter book series The Notebook of Doom. He lives in Greencastle, Indiana with his messy kids and neat cats. Check out more of Troy's work at troycummings.net.

Praise For…
---
"This story is a warm hug in book form, and reminds readers that there's a friend out there for each of us." —Vicki Wright, Cape May County Library 

"Sure to win the hearts of dog-lovers, this big, colorful picture book is fun for reading aloud." —Booklist

"A large format and bold, exuberant illustrations are well-matched with Arfy's enthusiastic personality and can-do attitude. The letter format makes this a fine choice for early-elementary students learning to compose letters. Persuasive writing by a persistently pleasing pooch." —Kirkus Reviews

"No bones about it; this humorous picture book will be a hit with storytime audiences and emergent readers."  —Mindy Hiatt, Salt Lake County Library Services, School Library Journal 

"It's an instant classic in our household." —#1 New York Times bestselling author Sarah J. Maas