Hug a Bug: How YOU Can Help Protect Insects (Dr. Seuss's The Lorax Books) (Hardcover)
You have found our old website- this site no longer works! Please go to www.InkwoodNJ.com to shop - Thanks!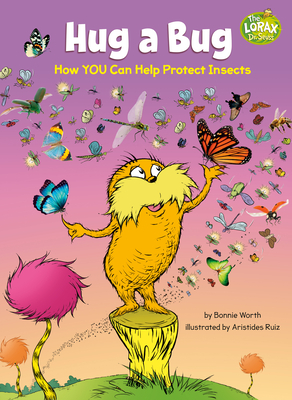 $9.99

Usually Ships in 1-5 Days
Description
---
Join the Lorax—Dr. Seuss's beloved icon of environmentalism—as he introduces children to nine insects currently endangered by human activity. An empowering book that teaches kids simple actions they can take to help protect and save them!

I am the Lorax
and I've come here to say
that some bugs need our help
(and they need it TODAY)!


This rhymed easy-reader narrated by the Lorax explains how insects are vital to life on Earth, and how some of them—including bumble bees, ladybugs, monarch butterflies, and dragonflies—are threatened with extinction. Young children will learn how these common backyard insects help humans to survive (by pollinating our crops, for example), and how humans—including kids—can make simple changes that will help these insect species to survive as well!
 
Illustrated with bright, cheerful art and full-color photographs, Hug a Bug includes suggestions on growing native plants, reducing energy use to combat climate change, a list of recommended Web sites, glossary, index, and instructions for building a simple bee house. It's a perfect choice to nurture a love and respect for the natural world—as well as a love of reading!
About the Author
---
BONNIE WORTH is the author of countless books for young readers, among them the Cat in the Hat Learning Library books Oh Say Can You Say Di-No-Saur?; If I Ran the Rain Forest?; Hark! A Shark!; and If I Ran the Horse Show.

New Jersey native and "constant scribbler" ARISTIDES (Art) RUIZ has illustrated over 100 books for children—among them 40+ books in the Cat in the Hat's Learning Library series. A versatile artist, he divides his time between illustrating for children and fine art painting because . . . he's a scribbler. He's constantly scribbling. To learn more about Art and his work visit aristidesruiz.com.