Snuggle Puppy!: Book & Plush Gift Set (Other book format)
You have found our old website- this site no longer works! Please go to www.InkwoodNJ.com to shop - Thanks!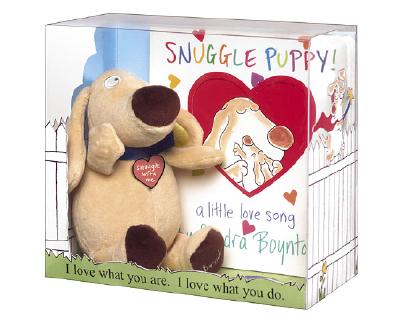 Description
---
The perfect Valentine for the littlest ones. Or for sensitive CEOs. It's a book. It's a toy. It's both, and best of all it's Boynton through and through. Snuggle Puppy! is a heartfelt love poem from parent to child, featuring an adorable doggie duo. Irresistible before, it's beyond irresistible when paired with a plush little Boynton puppy, perfect for story time cuddling (and smooching, of course: Now we'll end like this: [BIG SMOOCH]).
About the Author
---
Sandra Boynton is a popular American cartoonist, writer, and songwriter. Since 1974, Boynton has written and illustrated over forty children's books and seven general audience books, including four New York Times bestsellers. More than 60 million of her books have been sold—"mostly to friends and family," she says. She has also written and produced five albums of award-winning children's music. Three of her albums have been certified Gold, and Philadelphia Chickens, nominated for a Grammy, is nearing Platinum. She lives with her family on a farm in New England.