Surprising Sharks: Read and Wonder (Paperback)
You have found our old website- this site no longer works! Please go to www.InkwoodNJ.com to shop - Thanks!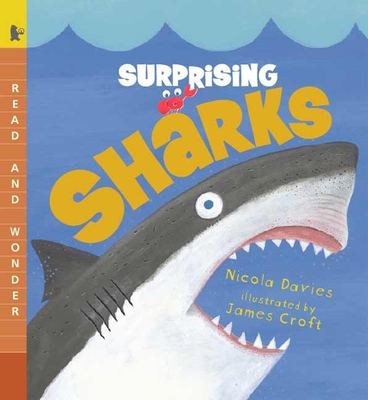 $8.99

Usually Ships in 1-5 Days
Description
---
"Everything works in this book — the informative yet humorous writing, the not-too-scary illustrations, and a superb layout that employs multisized text and bright color backgrounds to great effect." — The Horn Book

"SHAAAARRRKK!" That's probably the last word anyone wants to hear while swimming in the warm blue sea. But most sharks aren't at all what people expect. In fact, those who think all sharks are giant, man-eating killers are in for a surprise. The compelling narrative, colorful illustrations, and captivating facts in Surprising Sharks reveal that sharks come in all shapes and sizes — and probably should be more afraid of humans than we are of them.
Back matter includes an index and a note about sharks.
About the Author
---
Nicola Davies, a zoologist and author of such books as WILD ABOUT DOLPHINS, ONE TINY TURTLE, and BAT LOVES THE NIGHT, has a special love of the sea. She has seen basking sharks off the coast of England and once came face to face with a shark while she was snorkeling - a baby spotted dogfish about the size of a sardine. Since sharks have been on Earth a lot longer than humans, she feels they deserve our respect and protection. She lives in Somerset, England.

James Croft has always enjoyed drawing sharks and finds that their teeth, speed, and the sense of danger they evoke fuel his imagination like no other creature. The illustrator of numerous books for children, including the Brand New Readers MOUSE HAS FUN and MOUSE GOES OUT by Phyllis Root, James Croft lives and works in London.
Praise For…
---
Everything works in this book— the informative yet humorous writing, the not-too-scary illustrations, and a superb layout that employs multisized text and bright color backgrounds to great effect.
—The Horn Book

The book is chock-full of fascinating information about 'sharkish' behavior . . . Davis concludes with a notion that these animals have much more to fear from humans than vice versa.
—School Library Journal

Rarely do author and illustrator complement each other as perfectly as in this undersea jewel . . . the package can't be beat.
—Kirkus Reviews

Davies manages to impart a remarkable amount of information about sharks in this picture-book science volume. . . . What's more, Croft's bright, humorous artwork . . . and the clever layout will make this a first choice for many young children.
—Booklist