Buzzkill: A Wild Wander Through the Weird and Threatened World of Bugs (Hardcover)
You have found our old website- this site no longer works! Please go to www.InkwoodNJ.com to shop - Thanks!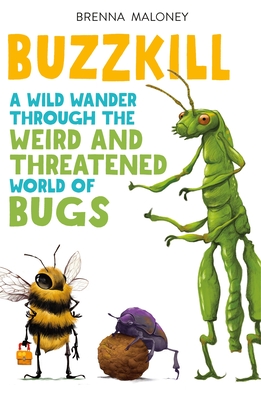 $21.99

Usually Ships in 1-5 Days
Description
---
The praying mantis is the only animal on Earth with one ear—and it's in the middle of its chest. Aphids are born pregnant. Moths can't fly during an earthquake. If you didn't know these things, you soon will. Packed full of jaw-dropping facts, Buzzkill presents the big picture on bugs. You might think ew, gross. Insects are icky. Or scary. Or dangerous. They can be. But there's so much more you need to know.

Insects play a critical role on our planet, from sustenance to pollination to medicines and more. Brenna Maloney tackles both the wacky and weird, as well as threats to insects and their habitats, their possible extinction, and ways that everyday people, like you, can prevent their decline.

Find out what all the buzz is about!

Godwin Books

A JUNIOR LIBRARY GUILD GOLD STANDARD TITLE
About the Author
---
Brenna Maloney is a former reporter and editor for The Washington Post. She has spent more than a dozen years reporting, writing, and editing on environmental issues for the National Geographic Society and is also the award-winning author of several books. She lives and works in Washington, D.C.
Praise For…
---
"Nearly every page of this volume has a fabulous fact or story to relate. The tone is informatively jocular, with a waggishness sure to appeal to middle-grade readers but content sophisticated enough to intrigue and educate teens. As entertaining as these stories are, scientific research is the foundation of this superb book. Fresh, lively, funny, and very, very informative" — Kirkus Starred Review

"In this wide-ranging, amusing, and informative investigation of the insect world, Maloney features the ways in which insects are remarkable unto themselves as well as in relation to humans and the environment... If readers are not already inspired by Maloney's antics, the final chapter provides an exhaustive list of ways to take action and preserve insect species." — Hornbook Starred Review

"Back matter includes organizations to contact, books to read, and actions to take to help support insect populations...An approachable text on a wide range of insect lore, this title has high appeal for those curious about bugs and would also be helpful for research" — School Library Journal Starred Review

"From the first page, the author delights with fascinating details in a jaunty, conversational style, periodically accompanied by funny cartoon spot art...A buzzy account for budding entomologists that's sure to fly off the shelves." — Booklist Starred Review