Con Pollo: A Bilingual Playtime Adventure (Hardcover)
You have found our old website- this site no longer works! Please go to www.InkwoodNJ.com to shop - Thanks!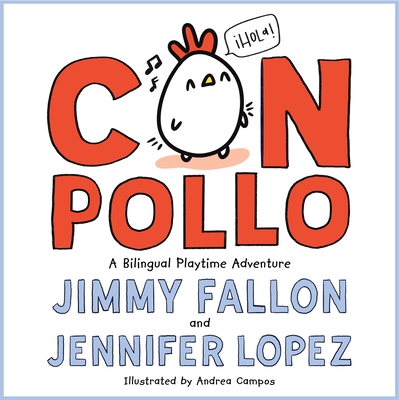 $18.99

Usually Ships in 1-5 Days
Description
---
A NEW YORK TIMES BESTSELLER

Con Pollo: A Bilingual Playtime Adventure is an engaging and hilarious picture book that serves young readers as an introduction to basic Spanish vocabulary, brought to life by superstar team-up Jimmy Fallon and Jennifer Lopez.

Meet Pollo, a friendly little chicken who just wants to play. And play, and play, and play all day!

Pollo makes any activity more fun. Why just go to the beach when you could go to la playa con Pollo?

Do you want to play soccer, or play fútbol con Pollo?

Do you want to go dancing, or bailar con Pollo?

Whatever you decide to do, you're in for a busy, adventurous day with your new friend, Pollo!

Illustrated by Andrea Campos

Praise for Con Pollo:

"A balance of pedagogy and pure visual fun, smartly gauged for budding curiosities and short attention spans." —Publishers Weekly

"A hilarious read that also serves as an introduction to Spanish vocabulary." —People
About the Author
---
Emmy and Grammy Award winner Jimmy Fallon is the author of #1 New York Times-bestselling children's books Your Baby's First Word Will Be DADA, Everything Is Mama, This Is Baby, and 5 More Sleeps 'Til Christmas. He lives in New York with his wife, Nancy, their two daughters, Winnie and Franny, and their dog, Gary.

Jennifer Lopez is an award-winning actress, producer, singer, entertainer, and businesswoman who has helped build billion-dollar brands and has established herself as one of the most influential artists in history, with over 15 billion streams of her music and videos.

Andrea Campos is a Latinx illustrator, author, and photographer based in sunny California who specializes in creating expressive and upbeat work that makes you want to smile. She is the illustrator of Con Pollo: A Bilingual Playtime Adventure.
Praise For…
---
Praise for Con Pollo:

A New York Times Bestseller
A Publishers Weekly Bestseller

"Simple, bold, colorful illustrations, reminiscent in style of Peep and the Big Wide World, are perfectly suited to grab and hold the attention of the intended audience. ... A fun way to introduce Spanish vocabulary to young readers, with a character and formula that are worthy of additional titles. An excellent purchase for bilingual and general picture book ­collections." —School Library Journal, starred review

"A balance of pedagogy and pure visual fun, smartly gauged for budding curiosities and short attention spans." —Publishers Weekly

"Talk-show host Fallon and movie and pop star Lopez partner up to serve an introductory slice of whimsical Spanish learning. ... Colorful visual simplicity here aims to capture younger readers' attention, with great success ... A fluffy, uber-adorable, bite-sized introducción al español." —Kirkus Reviews

"A hilarious read that also serves as an introduction to Spanish vocabulary." —People

"Your kids' book collection is about to get a whole lot funnier." —Mom.com

"Adorable and educational ... will surely become one of your kids' favorites." —SheKnows

Praise for 5 More Sleeps 'til Christmas:

#1 New York Times bestseller!
An American Booksellers Association Indies Bestseller!
A Publishers Weekly Bestseller!

"The vivid colors and expressive illustrations in this book place the reader inside the pages of the story, empathizing with the boy's impatience as the story progresses. ... The short, rhyming text is enjoyable for both children and adults; balanced, four-line rhymes are used throughout the book, making the story ideally suited to be read aloud." —School Library Journal

Praise for This Is Baby:

#1 New York Times bestseller!

"The team behind Everything Is Mama returns with another simple, colorful picture book likely to delight toddlers." —Publishers Weekly

Praise for Everything Is Mama:

#1 New York Times bestseller!

Praise for Your Baby's First Word Will Be DADA:

#1 New York Times bestseller!

"A punchy and deceptively simple story that will make for some fun readalouds."—Publishers Weekly

"Children of all ages can glean knowledge and enjoyment from this book."—Children's Literature