Pig the Slob (Pig the Pug) (Hardcover)
You have found our old website- this site no longer works! Please go to www.InkwoodNJ.com to shop - Thanks!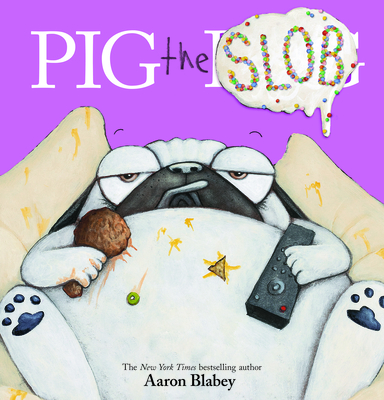 $14.99

Usually Ships in 1-5 Days
Description
---
An all-new Pig the Pug picture book from internationally bestselling author-illustrator Aaron Blabey.Pug was a Pug,and I'm sorry to say,he was shockingly lazy.Such a shameful display...Pig, the world's greediest pug, is back -- and he won't get off the couch! Pig spends all day, every day lounging around, binging snacks and TV. Trevor tries to convince him to come out and play, but Pig won't budge! Until one day, something happens to get Pig up off the couch once and for all...Rich with author-illustrator Aaron Blabey's signature rhyming text and unforgettable illustrations, Pig the Slob is a laugh-out-loud story that follows the seven previous books in the series (Pig the Pug, Pig the Winner, Pig the Elf, Pig the Star, Pig the Fibber, Pig the Stinker, and Pig the Tourist).
About the Author
---
AARON BLABEY has written many well-loved, bestselling books for children. He is the creator of three hugely successful series for children — the New York Times bestselling The Bad Guys (Les méchants), Pig the Pug (Carlos le carlin), and Thelma the Unicorn (Thelma la licorne). The Bad Guys movie released in 2022. It was produced by DreamWorks Animation with Aaron serving as an executive producer on the project.
Aaron's books have won many awards, including nine REAL Awards, an INDIE Book Award for Children's Book of the Year, a Children's Book Council of Australia — Book of the Year Award, NSW Premiers Literary Award for Children's Literature, two Australian Book Design Awards, and a Children's Peace Literature Award.
Praise For…
---
Praise for Pig the Winner:"The goggle-eyed cartoon illustrations are fun, funny, and appealingly grotesque in their exaggerated goofiness, and they are a good match for the rhyming text." -- Kirkus ReviewsPraise for Pig the Pug:"Blabey's jaunty rhymes will make for some fun read-alouds." -- Publishers Weekly

Praise for Pig the Winner:"The goggle-eyed cartoon illustrations are fun, funny, and appealingly grotesque in their exaggerated goofiness, and they are a good match for the rhyming text." -- Kirkus ReviewsPraise for Pig the Pug:"Blabey's jaunty rhymes will make for some fun read-alouds." -- Publishers Weekly