Cat Ninja: Wanted (Paperback)
You have found our old website- this site no longer works! Please go to www.InkwoodNJ.com to shop - Thanks!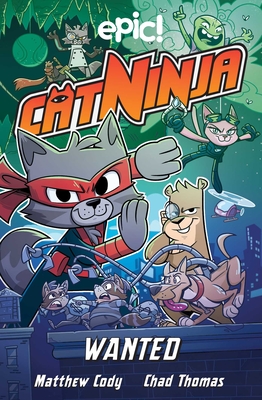 $9.99

Usually Ships in 1-5 Days
Other Books in Series
This is book number 3 in the Cat Ninja series.
Description
---
In Book 3 of the hugely popular Cat Ninja series, small-time crooks, sidekicks, and the wannabe supervillains who made our heroes who they are all get a chance to tell their stories––and their stories are hilarious!
Cat Ninja: Wanted
features Metro City's favorites and newcomers in tales that include a nearly cat-astrophic case of stolen identity, the not-so-villainous adventures of Master Hamster, and Adonis's first mission as one of the good guys. Enjoy six stand-alone stories, plus a five-part Cat Ninja special miniseries! 
The stories in
Cat Ninja: Wanted
teach readers that:
People (and villains!) can change
Everyone deserves a second chance
You don't need superpowers to be a hero!
About the Author
---
Matthew Cody is the author of several popular books, including the award-winning Supers of Noble's Green trilogy: Powerless, Super, and Villainous. He is also the author of Will in Scarlet and The Dead Gentleman, as well as the graphic novels Zatanna and the House of Secrets from DC Comics and The Bright Family from Epic/Andrews McMeel. He lives in Manhattan, New York, with his wife and son.

Colleen AF Venable is the author of the National Book Award long-listed Kiss Number 8, a graphic novel co-created with Ellen T. Crenshaw. Her other books include Mervin the Sloth is About to Do the Best Thing in The World with Ruth Chan, The Oboe Goes Boom Boom Boom with Lian Cho, and the Guinea Pig, Pet Shop Private Eye series, illustrated by Stephanie Yue and nominated for the Best Publication for Kids Eisner.

When not bingeing old Twilight Zone episodes, Marcie Colleen is busy writing children's books. She is the author of numerous titles, among them Love, Triangle, Penguinaut!, The Bear's Garden, and the Super Happy Party Bears chapter book series. She lives in San Diego, California. Visit her at www.thisismarciecolleen.com.

Chad Thomas is an illustrator and cartoonist living with his family in McKinney, Texas. He's worked on books such as TMNT, Star Wars Adventures, and Mega Man and also illustrates activity and educational titles. He loves his family, comic books, and Star Wars and will let his children beat him in checkers, but never in Mario Kart.

Derek Laufman has been a professional illustrator for 20 years, during which time he's had the pleasure of working for Marvel, Warner Brothers, Disney Publishing, Hasbro, and Mattel. He is the designer of Marvel's Super Hero Adventure line as well as DC's Super Friends toddler branding. He is also the creator of the comic series RuinWorld published by BOOM! Studios. Derek is married with two young sons and lives in London, Ontario.

Warren Wucinich is a comic book creator and part-time carny who has been lucky enough to work on such cool projects as Invader ZIM, Bright Family, Courtney Crumrin, and Cat Ninja. He is also the co-creator of the YA graphic novel Kriss: The Gift of Wrath. He currently resides in Dallas, Texas, where he spends his time making comics, re-watching 80's television shows, and eating all the tacos.