111 Trees: How One Village Celebrates the Birth of Every Girl (CitizenKid) (Hardcover)
You have found our old website- this site no longer works! Please go to www.InkwoodNJ.com to shop - Thanks!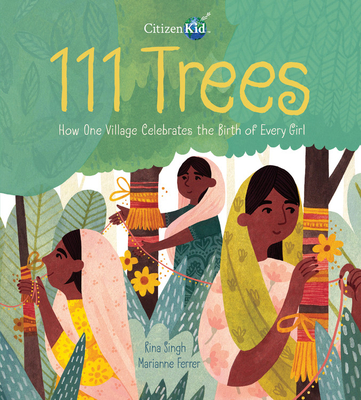 $18.99

Usually Ships in 1-5 Days
Description
---
In a small village in India, a boy grows up to make a huge difference in his community by planting trees to celebrate the birth of every girl. Based on a true story, this book celebrates environmental sustainability, community activism and ecofeminism.
This is the story of Sundar Paliwal, who is from Piplantri, a small village in North India. As he grows to be a man, Sundar witnesses how irresponsible mining ravages the countryside and how ancient customs and beliefs cause gender inequality and discrimination. He decides it's time for change to come to his village. Sundar's plan? To celebrate the birth of every girl with the planting of 111 trees. Though many villagers resist at first, Sundar slowly gains their support. And today, there are over a quarter of a million trees in his village, providing food, water and opportunities for women to earn a living. His efforts have turned a once barren and deforested landscape into a fertile and prosperous one where girls can thrive.
Based on true events in the life of Sundar Paliwal, and written in collaboration with him, Rina Singh's uplifting story shows how one person can make a difference in a community. Beautiful illustrations by Marianne Ferrer sensitively bring the evolution of the village to life. With strong links to the science curriculum, this book offers lessons on environmental awareness, sustainability and stewardship, as well as the concept of ecofeminism. It also explores ideas of social development, community and culture, and the character education traits of responsibility and cooperation. A thoroughly researched author's note with photographs and more information about the village of Piplantri is included.
About the Author
---
Rina Singh was born in India and immigrated to Canada, where she received her MFA in creative writing from Concordia University and a teaching degree from McGill University. She is an internationally published author and has written many critically acclaimed books for children. She lives in Toronto, Ontario, with her husband.
Praise For…
---
An inspiring picture book about eco-feminism in action ...—Kirkus Reviews

Girls are one with nature in ... this inspiring true story ...—New York Times

... an interesting and inspiring true story ...—CM Magazine

... an homage to trees, girls, and a planet that is sure to return the favor when we care for it.—Booklist, starred review

... inspiring ...—Globe and Mail

This engaging story serves as a compelling introduction to the concept of eco-feminism ...—School Library Journal

This is an amazing book with a strong message ...—Owl Magazine

... vibrant ...—International Examiner

Accompanied by Ferrer's stylized illustrations in muted earth tones, Singh's approachable text conveys how one person's passion and commitment can have tremendous impact on their community.—The Horn Book