All Kids Are Good Kids (Board book)
You have found our old website- this site no longer works! Please go to www.InkwoodNJ.com to shop - Thanks!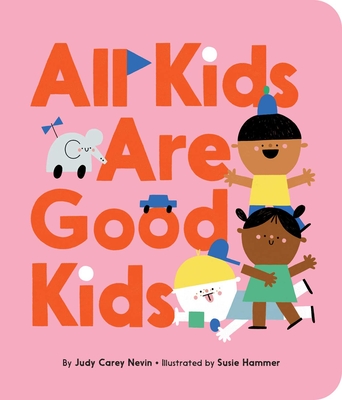 $7.99

Usually Ships in 1-5 Days
Description
---
This sweet board book celebrates different types of children that have one important thing in common: they're all good kids—and every kid is one of a kind.

Tall kids, short kids,
Build a pillow fort kids.

Shy kids, glad kids,
Love to belly laugh kids.

No two kids are alike and this charming story celebrates those special differences that make kids both unique and similar. Judy Carey Nevin's bouncing text paired with Susie Hammer's brilliant and bright art proves that while children may appear to be different, they also enjoy many of the same things. It's these shared differences and similarities that make every kid one of a kind.
About the Author
---
Judy Carey Nevin twice received a fortune from a New York City fortune cookie that read "You are a lover of words. You will someday write a book." Judy never expected that fortune to come true, but she has unexpected inspirations that she just has to get on paper. Her sensibilities lean toward texts for the very young, especially preschool. Judy spent some of the best years of her career as an editor at Viking Children's Books, where she specialized in picture books and easy-to-read books. Judy is a library director in Ohio, where she lives with her husband, daughter, and pooch.

Susie Hammer is a Polish illustrator and graphic designer based in Madrid. Susie uses simple shapes and vivid colors to create a playful, happy imaginary world. She loves drawing and painting and mixing techniques to create something different with each project. Although she works mostly digitally, her hands are frequently stained with all the colors of the rainbow. Susie's illustrations can be found on textiles, paper goods, and in magazines and books throughout Europe. When she is not daydreaming about dogs driving cars, Susie can be found teaching art workshops for children.