The Woollyhoodwinks vs. the Dark Patch (Hardcover)
You have found our old website- this site no longer works! Please go to www.InkwoodNJ.com to shop - Thanks!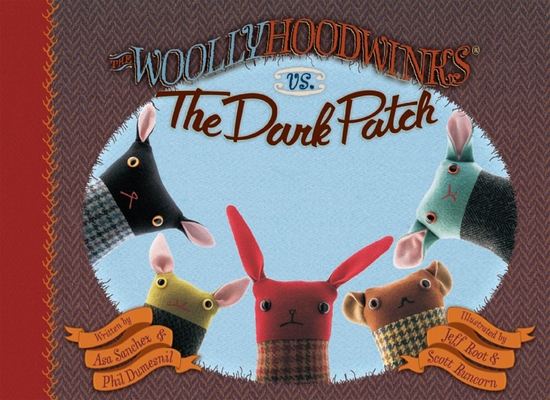 $15.95

Usually Ships in 1-5 Days
Description
---
Five cute, cuddly, and creative creatures must save their dear forest home from a mysterious, growing threat It's like the Uglydolls meeting Winnie the Pooh.
The Woollyhoodwinks are five plush dolls who enjoy life in the richly textured Black North Forest. Junco leads the imaginative Ludic, the prankster Reddy, the reasonable Ozard, and the cute baby named Fluke. However, their carefree existence is interrupted when a piece of the sky falls to earth. This dark patch begins to grow As it spreads over the ground and disturbs the tranquility of their woodland home, these adorable friends take turns trying to solve this strange mystery. How will the naturally inventive 'Hoodwinks save the day? Ingenious photo-illustrations make stuffed animals come alive in a textured and stitched landscape.
This inventive tale will spark the imaginations of both kids and adults. True to the doll's original handcrafted designs, the illustrations' ingenious landscapes of colorfully patterned fabrics will entrance children. Wonderful vistas that spring from sewn cloth will remind parents of cozy homespun quilts.
Teachers and librarians will appreciate the amusing craftwork and allegorical storyline, whereas librarians will savor the lyrical prose which flirts with poetry. The Woollyhoodwinks' eye-catching antics are bound to appeal to the dreamer in everyone. These whimsical characters are designed as a tribute to hand crafted toys of the past, with a contemporary twist. Their unique personalities are sure to warm hearts of all ages.
- Raymond McKenzie, San Francisco Museum of Craft+Design
About the Author
---
This book is a collaborative effort of four friends in San Francisco, CA. At an age when most folks have long set down their toys for more grown-up pursuits, these guys thought it might be fun to create a few whimsical characters (Jeff Root), bring them to life (Scott Runcorn), and write songs and stories about them (Phil Dumesnil and Asa Sanchez respectively).