Marine Science for Kids: Exploring and Protecting Our Watery World, Includes Cool Careers and 21 Activities (For Kids series #66) (Paperback)
You have found our old website- this site no longer works! Please go to www.InkwoodNJ.com to shop - Thanks!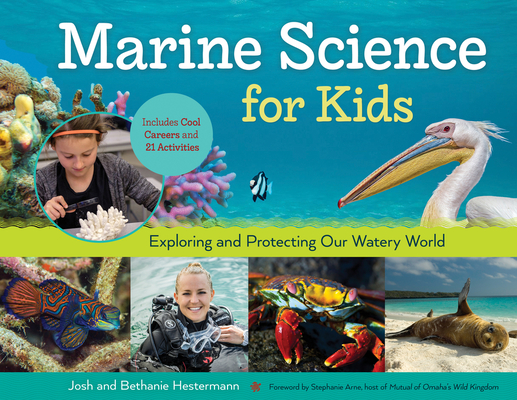 $18.99

Usually Ships in 1-5 Days
Description
---
Do you ever dream of being a marine explorer or adventurer? Are you a fan of cool, cute, or creepy creatures? Then here's some good news: some of the coolest, cutest, and creepiest creatures live in Earth's oceans and other watery places.

Marine Science for Kids is a colorful, fun, photo-filled guide to exploring our underwater world. In these pages, you'll delve deep into the science of aquatic study, including geology, chemistry, and biology in both salt- and freshwater environments, and gain insight into the real-world practice of aquatic science. You'll discover how and why oceans move, and learn the answers to questions such as "Why is the ocean blue?" You'll meet cool creatures, including sharks and rays, penguins and other seabirds, whales and dolphins, squids and octopuses, and many more. You'll uncover some of the most pressing challenges facing marine environments and find out how you can use your talents to make a difference. Real-life marine scientists share what inspires them every day and provide insights into their exciting careers. Hands-on activities in each chapter make learning fun.

Kids can: make an edible coral reef; explore marine camouflage; construct a water-propelled squid; test methods of cleaning up an oil spill; experiment with ocean acidification; and much more.

About the Author
---
Josh and Bethanie Hestermann are the coauthors of Zoology for Kids. Josh Hestermann is the terrestrial husbandry manager at the California Science Center. He has worked as a senior mammalogist at the Aquarium of the Pacific in Long Beach, California. He has also worked as a keeper at Brookfield Zoo and Phoenix Zoo, a wildlife researcher studying marine mammals, and a presenter and educator. Bethanie is a wildlife and conservation blogger and the founder of WordZoo Creative LLC. They live in Southern California. 

Stephanie Arne is the host of Mutual of Omaha's Wild Kingdom and the founder of the Creative Animal Foundation.
Praise For…
---
"The clear exposition is straightforward and logically organized, densely filled with information but pleasingly broken up by text boxes and photographs on almost every page." —Kirkus Reviews

"Whether explaining ocean acidification, coral-reef characteristics, or 'What's Special about a Cephalopod?' there's much to inform and pique interests here." —Booklist


"This is an excellent example of how blending STEM fields can be done right…" —School Library Journal

"I think that other kids should read this book because it is very informative about keeping our ecosystems healthy and clean. I would rate this book at 9/10 because of its awesome information." —OWL


"We highly recommend this one."—Geek Reads Kids

"This would be a solid resource for schools as well as public libraries serving home- school populations." —School Library Connection

"While the book is informative, it is the hands-on activities in each chapter that set this book apart from other similar texts."—Green Teacher