Benjamin Bear in Brain Storms!: TOON Level 2 (Paperback)
You have found our old website- this site no longer works! Please go to www.InkwoodNJ.com to shop - Thanks!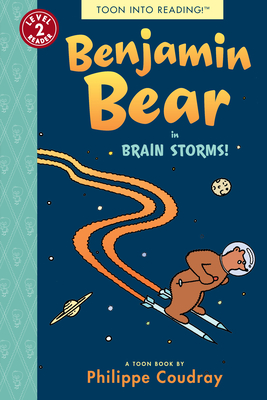 $7.99

Usually Ships in 1-5 Days
Description
---
The out-of-this-world outlook of a down-to-earth bear! 

Explore the world through the eyes of Benjamin, a bear who takes his silly way of doing things very seriously. In the third book about Benjamin's adventures, author PHILIPPE COUDRAY continues to delight readers by bending the rules of common sense and breaking the laws of physics. Pull up a chair, grab a friend, and open your mind—today's forecast is for BRAIN STORMS!

Praise for Philippe Coudray's Benjamin Bear series:

* "A marvel of economy in setup, delivery, and payoff."—Booklist, STARRED REVIEW

* "This book rewards what six-year-olds are already good at (scrutiny), encourages a new skill (reading), and enlarges the imagination (heaven)."—The Horn Book, STARRED REVIEW

"A visually formatted joke book to inspire thinking as well as laughs."—Kirkus Reviews

"A must-have for early readers who would like to try a graphic novel or comic." —School Library Journal
About the Author
---
Philippe Coudray loves drawing comics, and his many children's books are often used in the schools of his home country of France. His work was chosen by students to win the prestigious Angoulême Prix des Écoles. His first two books in English, Benjamin Bear in Fuzzy Thinking and Benjamin Bear in Bright Ideas, were both nominated for the Eisner for Best Publication for Early Readers.
Praise For…
---
Praise for Benjamin Bear in Brain Storms!

Texas Library Association Little Maverick Graphic Novel Reading List 2016
A Junior Library Guild Gold Standard Selection

"Unlocking what makes each strip funny—which is often purely visual and sharply unexpected—will reward bright kids with odd-shaped funny bones, and the added element of picking up some new vocabulary in the process is pure icing on the cake. For any kids who get in on the jokes, this one should have great replay value." —Booklist

"A visually formatted joke book to inspire thinking as well as laughs." —Kirkus Reviews

"Another fine installment in this idiosyncratic series." —the Horn Book

"A must-have for early readers who would like to try a graphic novel or comic." —School Library Journal

"Any reader of any age should be able to read and enjoy Coudray's Benjamin Bear books. When a comic is this accomplished, more is always welcome." —School Library Journal Good Comics for Kids

"Each strip ends with a gag that bends the rules of common sense or breaks the laws of physics. Most, though, are laugh-out-loud funny. " —Jamie Greene for Geek Dad

Praise for the Benjamin Bear series

"A visually formatted joke book to inspire thinking as well as laughs." —Kirkus Reviews

"The latest entry in the TOON Books line of emerging-reader comics pushes a whole new sort of envelope: outré humor for the early grade-school set. These single-page strips starring a peculiar bear and his critter pals will feel fresh to young readers not just because the jokes rely on incisive understatement rather than broad-stroke exaggeration but also because the humor requires a bit of work to arrive at the surprising, sometimes sophisticated, and yet rarely out-of-reach punch lines. Some of the gags may fly over kids' heads at first, but the pleasure of finding the funny by deciphering visual cues will keep them coming back. The final page, in which Benjamin Bean explains that he would never read a comic book—it is a rather boring thing for a star of a comic strip to do to his readers—is an especially elegant use of a handful of words in three compact panels, and it demonstrates exactly what makes comics such a winning bet for kids. They're just plain fun, see."—Booklist

"Think Far Side for the elementary school set. Each page is one joke, mostly driven by Benjamin's offbeat take on the world. The jokes are mostly visual, which makes them perfect for the comic medium, and Coudray's simple art is perfect for delivering punch lines." —School Library Journal