Benjamin Bear in Bright Ideas!: TOON Level 2 (Paperback)
You have found our old website- this site no longer works! Please go to www.InkwoodNJ.com to shop - Thanks!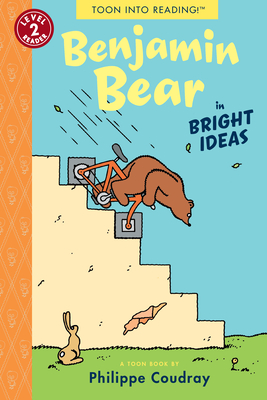 $7.99

Usually Ships in 1-5 Days
Description
---
Our favorite fuzzy friend, the idiosyncratic Benjamin Bear, returns with a whole new set of problems to solve.

Knitting a sheep a sweater? Visiting a fish's underwater house? Soaring down a staircase on a square-wheeled bicycle? These could only be the predicaments of beloved character Benjamin Bear! Our favorite fuzzy friend returns with a whole new set of problems to solve—but when it comes to Benjamin Bear, the solutions may cause just as much trouble. Get ready for some of the brightest and silliest ideas yet!
About the Author
---
Phillipe Coudray loves drawing comics and working with his twin brother Jean-Luc, who is also a humorist. Philippe's books are often used in the schools of France, his home country, where Benjamin Bear's French cousin, Barnabé, has won many prizes. In the US, Benjamin Bear in Fuzzy Thinking was nominated for an Eisner Award.
Praise For…
---
Association for Library Service to Children Graphic Novels Reading List (Grades K-2)
Young Readers Panda Award Winner
2014 Eisner Nominee
Association for Library Service to Children's Graphic Novels Reading List 2016
A Junior Library Guild Selection

* "The clever bear and his assorted crew of animal pals from Benjamin Bear in Fuzzy Thinking (2011) return for another collection of single-page strips, each one a marvel of economy in setup, delivery, and payoff [...] The cleanly articulated lines, stoic but cuddly critters, and simple coloring could have come from just about any era—and, indeed, the artist has been working for decades in his native France—but feel right at home in this one. Honing a well-rounded sense of humor may be just as important as any other aspect of childhood learning, and you'll find no finer choice for that than the ingenious exploits of this very clever bear."—Booklist STARRED REVIEW

* "New readers will be served by the balance of story between speech bubbles and (needfully exact) illustrations; sometimes one provides the payoff and sometimes the other, but comprehension of both together is always required [….] This book rewards what six-year-olds are already good at (scrutiny), encourages a new skill (reading), and enlarges the imagination (heaven)."—The Horn Book STARRED REVIEW

* "Kids will laugh out loud at Benjamin as he solves problems in zany, often misguided, ways. The artwork was created using India ink and colored digitally to excellent effect; the animals' expressions are perfectly rendered and the pictures are sometimes the whole story, in a couple of wordless comics [...] A funny, smart little book that is definitely interesting enough to hold the attention of reluctant readers."—School Library Journal STARRED REVIEW

"A companion to Benjamin Bear in Fuzzy Thinking (2011), 27 more wise and witty minimalist fables drawn (with added dialogue and other minor changes) from French cartoonist Coudray's original series [...] Emergent readers won't be the only audience delighted by these winning combinations of humor and thought-provoking twists."—Kirkus Reviews

"In best improv fashion, the action takes a 'yes, and' turn, encounters some kind of opposition and then winds up in a punchline that directly comments on the premise in an unexpected manner. Sometimes he does this with no dialogue at all, using a simple visual to establish the premise. Again, this is a comic that forces the reader to read each panel carefully and make cognitive leaps in order to understand the punchline."—High-Low